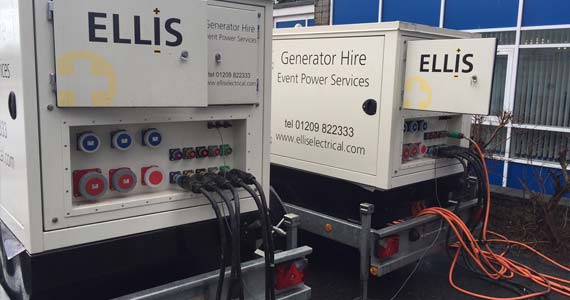 24/7 rapid response service across Cornwall and Devon
We can provide a secure and reliable solution with a back-up generator supply contract. Our 24/7 rapid response service throughout the region means that if you have a power outage we can usually supply a generator within the hour. We will install a generator plug in point at your premises so that in the case of a power outage we can get your standby power set up without delay. A permanently fixed standby generator is an option that we can supply, but our call out contracts save you capital investment, space, ongoing maintenance costs and depreciation of machinery.
We are the South West region's number one for emergency power
Ellis Event Power Services have the generator equipment, skills and experience to provide temporary electricity to any venue of any size. We offer a fuel management service for extended running period, to maintain power throughout the power shortage. Our existing Emergency Power customers include offices, 24/7 control rooms, pumping stations, care homes, surgeries, petrol stations, schools, call centres and monitoring stations.
All our generators are trailer mounted
All our generators are trailer mounted and towed by 4x4 vehicles so they can be quickly distributed to the best location at your event site. Equipment is regularly serviced but in the very unlikely occurrence of a breakdown we can usually provide a replacement generator within the hour. Our service is reliable, quiet and unnoticed because all our equipment is event rated, up to date and of the highest quality.
Thanks – Great working with you, all was perfect – we look forward to working with you again.

Redruth Town Council
Please pass on our thanks to your guy who delivered the generator to the Nare Hotel yesterday and also who picked it up today. He was helpful, polite and knowledgeable and helped us in getting the Nare up and running on the mains again.

Nare Hotel