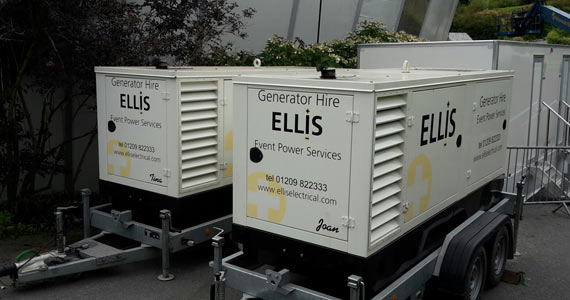 YOUR EXACT NEEDS
Our super silent generator sets supplied to meet your event specification can be matched with any additional equipment you require. This includes distribution, cabling, sockets and lighting. Our background and commitment to the highest standards of electrical engineering in our contracting business means that even the simplest generator hire is supplied with solid advice and understanding where it's needed. That knowledge and experience adds significant value where we're hiring larger generators, complete equipment sets or designing the supply and distribution for larger events.
NUMBER ONE FOR EVENT POWER ACROSS CORNWALL
Ellis Event Power Services have the equipment, skills and experience to provide temporary electricity to any venue of any size. We've supplied weddings, small and large garden parties, christenings, food and music festivals, conferences and functions of all kinds. From individual bookings to long term event managers we take a pride in being able to meet your needs.
All our generators are trailer mounted
All our generators are trailer mounted and towed by 4x4 vehicles so they can be quickly distributed to the best location at your event site. Equipment is regularly serviced but in the very unlikely occurrence of a breakdown we can usually provide a replacement generator within the hour. Our service is reliable, quiet and unnoticed because all our equipment is event rated.
Many thanks for all you did 'above and beyond the call of duty'. The Festival was a great success and knowing we can rely on contractors like yourselves to help smooth out the inevitable glitches and last minute changes allows me to focus on what I have to do, so thank you again. All the best and, yes, we'll remember you next year.

Food Festival
A big thank you for what you did for us yesterday it was fabulous. On behalf of all of our committee, please accept our thanks for your support. Same time, same place next year. Great day, great event, well enjoyed by the 1,000s who attended it, thank you for the part you played in it.

Truro Day Committee